Please patronize our advertisers (above) who make our shows possible.

---
---
Scheduled Performances 2023

February 18, 2023 At Bible Church Williamsburg (Private Affair)
April 29 Horseshoe Chorus Annual Show (details to be annlunced)

Past Performances - 2022

Jan 4th At Arts Altoona
Start rehearsals for Apr 2 Show

March 19 - Huntingdon Pride
Telethon 6 PM - Smithfield Fire Hall

March 26th - Railroaders Group
6:00 PM - Arts Altoona Bldg.

April 2nd, 2022 3pm
Show at Calvary Church

12:00 Noon April 23rd at Veterans Mall
11th Avenue Altoona

Aug 16th Chorus sings National Anthem &
God Bless America at Altoona Curve.

Aug 23rd - Hemlock Harmony Brigade at Hemlock Estate, Sugar Run Rd
Duncansville. All are welcome, but call for registration 814-381-5011.

October 4, 11, 18 and 25 7 PM at Arts Altoona "Ready, Set, Sing

Sept 3 At Raystown Amphitheater 7 PM

October 4, 11, 18, 25 Ready, Set Sing (see post,this page)

October 30 Hymn sing at 1st Grace Brethren-2934 Maple Av. Altoona 6:30 PM



Sixty Years of Harmony (Slides)
Barbershop Harmony - 75th Anniversary
Tag: Sunshine is Bidding the Day Goodbye
Tag: In Dixieland Where I was Born
Tag: Midnight Rose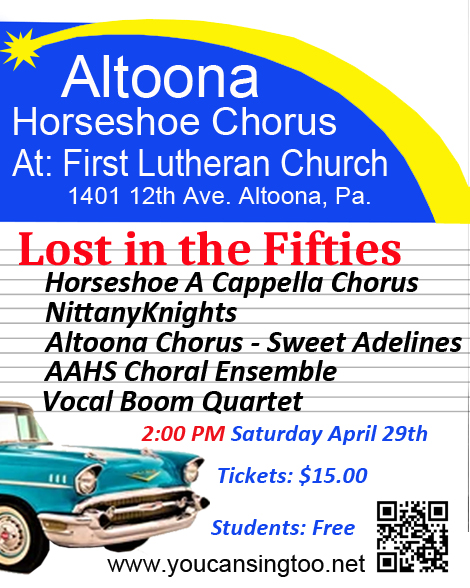 ---
The Horseshoe Chorus is putting finishing touches on our repertoire for our 69th annual show. This is shaping up to be a really good show. All performers are
extremely talented and we've booked a great venue for our show.

The First Evangelical Lutheran Church is beautiful and the acoustics are unbelievable.
You may wish to support the Chorus with a program ad. We'll also
list your ad on this webpage at no additional cost.

If you're a fast learner and a good singer you still have time (but not much)
to get in on the action. Come show your stuff. Maybe you can be a star!
-----------------------------------------------------------------------------------------------
Click Here
Click Here for Photos

---
Hey Folks!
Do you like to sing?
Want More Information?
Click Here
Chorus Practices

The Horseshoe Chorus is "back in action" and better than ever.
Please note that we will be meeting at:

ARTS ALTOONA
6th Ave. & 22nd Street
We just finished our 68th show
"A Cappella Showcase"
April 2nd. imagine how great this chorus could be with you as a new member.
Park and enter at rear.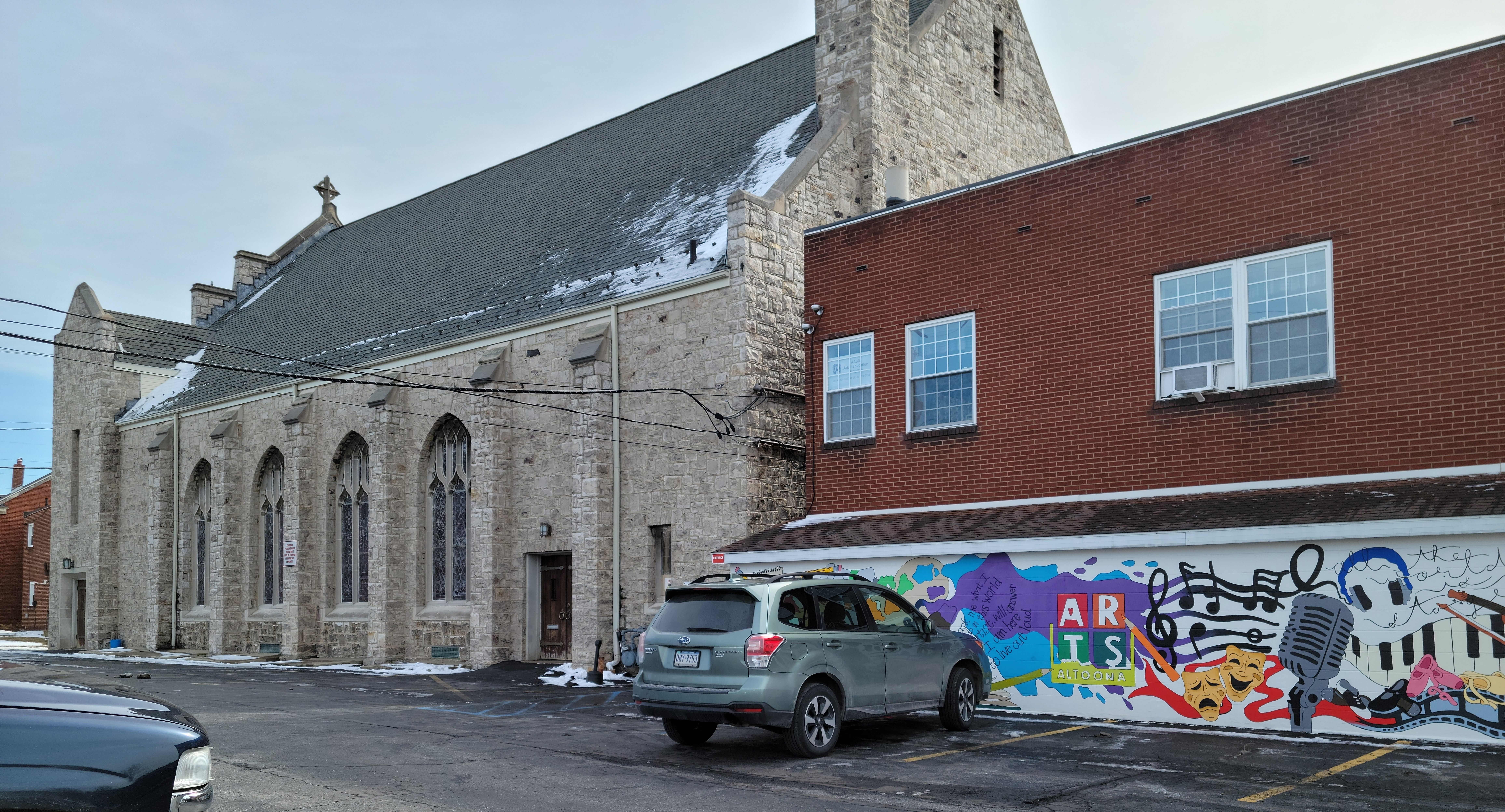 We start promptly at 7 PM. If you need more information or directions please call 814-381-5011 ************************
Call 814-381-5011 or 814-946-8909

or